St Louis Offsite Shredding Near Me
Off-site, shredding is a great way to shred a lot of documents affordably. This process is compliant with every existing federal and Missouri privacy laws including FACTA and HIPAA, but it's also generally less expensive than mobile shredding service. This is because the paper is shredded at a St Louis plant instead of at your location.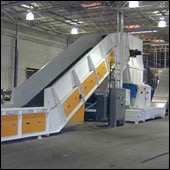 It also has a high level of security since only authorized employees are allowed to come in contact with the material or even be at the plant. Trained security professionals transport your documents in a locked truck, guarding it until it arrives at a locked St Louis shredding plant.
The material is dumped directly into the shredder that processes over 20,000 lbs an hour. When the process is complete, you're given a certificate of destruction that includes the certified weight and verifies that the materials were destroyed.
Once materials are shredded they are compacted and shipped directly to a paper company where the material is turned into pulp and recycled into new paper.
How St Louis Paper Shredding's Off-Site Shredding Service Works
Locked bins are provided so you can collect the files you want to shred. Don't worry about paper clips of hanging folders.
You schedule a time to have a professional come and pick up your bins, and they're transported to the Missouri shredding facility.
The containers are weighed and queued for shredding. All your documents are shredded, compacted, and pulped down into the new paper.
Then, you are given a certificate of destruction to ensure your shredding was completed
It's really that easy—get a free quote on offsite shredding today! Give us a call at (636) 238-3848.
Get Free, No Obligation Quotes on Offsite Shredding in St. Louis
St. Louis Paper Shredding offers mobile and offsite shredding service options throughout St. Louis and surrounding areas. Let our partners pick up your documents and shred them for you at reasonable prices. For free quotes on offsite shredding services near you, fill out the form to the left, or give us a call at (636) 238-3848.